Getting Your Home Ready For Market
Source: www.royallepage.ca
5 steps to achieve first-home style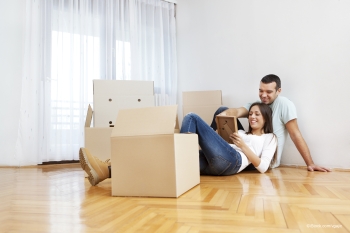 The time between inking the deal on your first home and move-in day is sure to be filled with anticipation and excitement. You'll be thinking about the empty rooms in your soon-to-be-occupied home and the promise they hold. But it's important to give yourself some time in the home to let your ideas evolve into better ones.
By all means visit stores, gather information, ideas, colours and fabric samples to begin your decorating plans. But remember, a truly comfortable and functional home that reflects your personal style will develop over time. These tips will help first-time homeowners to furnish and style their new abode:
1. Resist the temptation to immediately purchase new furnishings. Organize and move in with what you have, placing furniture in rooms and finding places for items that go in closets, cupboards and drawers.
2. Measure and make a plan for each room on paper. Explore options on graph paper and consider using masking tape to mark out dimensions on the floor or walls of any furnishing you might purchase. This will ensure the pieces will work within your available space.
3. Consider unwanted elements. Home ownership affords you the luxury of making choices. If you don't like a lighting fixture or the wallpaper border in the kitchen, you are at liberty to replace it.
4. Consider any changes you would like to make to flooring. Carpeting from the previous owners may be crying out for replacement. Research and price out replacement options with consideration to available products, the temperature underfoot, and any need for noise reduction.
5. Create a budget. Apply a realistic price tag to your wish list and establish a time-frame to achieve your goals. Do things one step at a time and keep a tally against your budget as you go.
5 thrifty DIY fix-ups to help sell your home
When preparing your home for the market, it's great to know there are some relatively inexpensive improvements that can make a big impact with buyers.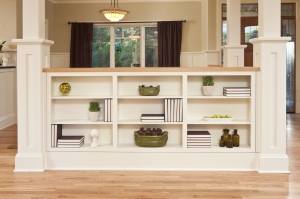 A few well-placed pieces of décor and a clutter-free home are simple things you can do on a budget to bump up interest in your home. Once the fundamentals of a well-maintained home are taken care of, these easy initiatives can seal the deal.
Clear the decks. Counter space is extremely important for buyers. Be sure to store kitchen and bathroom items off the counters. Purchase storage baskets in several different sizes to help you clear the decks in a hurry and minimize clutter.
Brighten up storage spaces. Closets and cupboard space are important selling features. You can make the most of what you have by purging unused items and painting a light colour inside cupboards and closets. Adding battery-operated lighting is also an inexpensive way to brighten a dark closet.
Replace interior room doors. Quickly and inexpensively brighten hallways and rooms by replacing interior doors and hardware. New white panelled doors and hardware can quickly freshen the home. Look for sales at your local building centre.
Tear up dingy broadloom. You may be pleasantly surprised by what's underneath. Even if you don't like what you see, replacing broadloom is one of the most economical improvements you can make when you consider overall return on your dollar.
Paint. Even high-end interior paints are a bargain when you look at what can be achieved with a fresh new finish. Opt for neutral colours in matte or eggshell finishes to camouflage flaws in walls. Trim is best handled with a white shade of satin, semi-gloss or high-gloss finish.
Clever ways to boost your home's curb appeal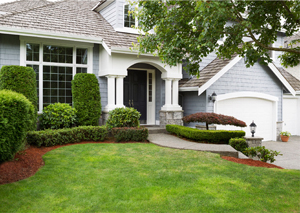 When selling your home, nothing looks quite as good as a well-manicured front garden or beautifully decorated balcony. While many homeowners focus on the interiors of their homes, a property's exterior can make all the difference, adding to its appeal and boosting its resale value.
And, a home's exterior plays an important role in shaping a prospective purchasers' decisions. As a first impression, these areas help set the tone and encourage buyers to visualize themselves owning the home.
An attractive exterior doesn't have to break the bank. There are a number of ways you can create a stunning outside environment without much effort or money. Here are just a few tips to carry you through the selling season:
Clear the clutter. One of the easiest ways to make any outdoor space come to life is to keep it clean and tidy. This lets buyers visualize how they will make the space their own when it trades hands.
Easy container gardens. Planted containers can add a charming look and feel to entranceways and balconies. When picking pots, look for similar styles that vary in size for a nuanced appeal.
Drought-tolerant plants. Flowerbeds and plants are often a great way to add a splash of colour to any exterior. For maximum effect, choose an assortment of perennials and annuals that require less water and are able to withstand hot summer days.
Don't forget to fertilize. Though sunlight and water are usually enough, periodically feeding your plants essential nutrients will promote lavish growth and ensure consistent flowering.